Teleperformance Philippines renews its commitment to the planet as it pledges to do monthly switch-offs of non-essential lights in all 22 of its business sites nationwide this 2021.
The pledge was announced at its recent "Let's Change the World" Citizen of the World (COTW) Meet-up, which shared updates on current advocacy projects of Teleperformance. The townhall, also held in celebration of Earth Hour, included special guest World Wide Fund for Nature (WWF) Philippines Ambassador Mikee Cojuangco-Jaworski.
Jeffrey Johnson, Senior Vice President for Human Capital Resource Management and Citizen of the World Foundation President, said that as part of its commitment, the company will switch off its lights for one hour every single month for the rest of this year to create awareness on environmental sustainability.
"We hope this will help continue to bring awareness as this is such an important goal for humanity and the community," Johnson added.
Teleperformance is committed to creating a positive impact on our local communities around the world through Citizen of the World, a charitable initiative to help the world's most vulnerable infants and children meet basic survival needs and ultimately reach their individual potential. This effort is joined by the Citizen of the Planet program, a global corporate initiative implemented in 2008 aimed at ensuring that Teleperformance operates in an environmentally friendly and responsible manner.
The WWF Philippines Climate Change Solutions Steward and the first female Earth Hour Ambassador, Cojuangco-Jaworski shared practical ways for Teleperformance employees and their friends and family to contribute to sustainability and climate change solutions for a cleaner and greener planet.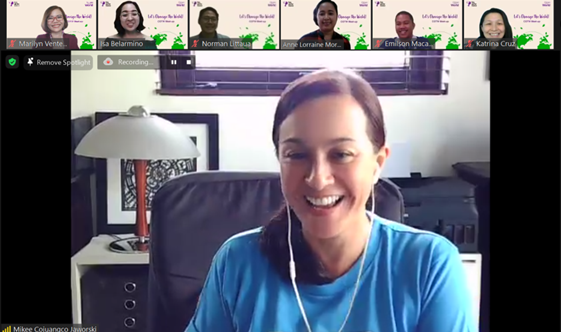 "Ultimately, it's the things we do when nobody's watching that matters the most. It's about what we do as individuals, which was what we do in our own homes, what is our lifestyle and what are our habits. The biggest problem is the carbon footprint we leave on this earth," shared Cojuangco-Jaworski.
Among some of the tips Cojuangco-Jaworski shared was reiterating the importance of the three R's – to reduce buying what you don't need, to look at what we can reuse and to recycle when we do our daily tasks. Another topic she touched on was plastic waste, hence, the importance of reducing consumption of single-use plastics, which could be ingested by animals, and then by people.