A prime suspect in the murder of four police officers in Negros Oriental last June 18, 2019 died in an encounter during a joint intelligence operation, today, February 18, the Philippine National Police confirmed in a statement.
PNP Chief, Police General Debold M Sinas said Ryan Sandag Manguilimutan, known in the underground movement by aliases "James" and "Ka Ignacio", died in shootout with a composite team of arresting officers from PNP Special Action Force (lead unit), PNP Intelligence Group, CIDG, NCRPO, and Negros Oriental Police Provincial Office at Gen Kalentong, Daang Bakal, Mandaluyong City at 7:00 AM.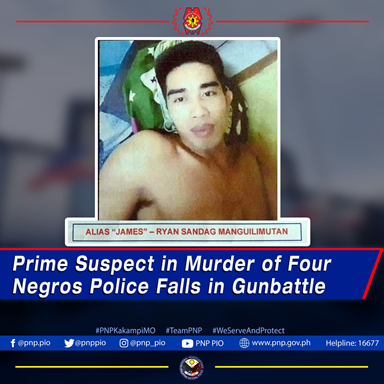 Manguilimutan is the subject of Warrant of Arrest for Criminal Case Nos. 19-194-A, 19-195-A, 19-196-A and 19-197-A (for the crime of Murder) Crim. Case Nos. A2020-71-CRC, A2020-72-CRC, A2020-73-CRC and A2020-74-CRC for Viol, of Sec. 4(c) (8) in relation to Sec.7, R.A. 9851 (International Humanitarian Law) and Criminal Case No. A-43-19 (theft) issued by Hon. Rosario S. Carriaga, Presiding Judge, Regional Trial Court Branch 75 of Bais City.
"Manguilimutan alias "Ka Ignacio" was recruited by rebel group at Northern Negros Front (NNF), KR-NCBS sometime in 2013. He was transferred to the Regional Strike Force (RSF) of the KR-NCBS in 2016 and became a regular member of CN3 in January, 2018", PNP Chief Sinas said.
Together with six members of rebel group and guerilla community supporters, they intercepted and brutally murdered the four Regional Mobile Force Battalion 7 personnel conducting information gathering in Brgy Mabato, Ayungon, Negros Oriental on June 18, 2019, and also brought along with them the personal properties of the victims together with the four issued short firearms.
Police recovered pieces of evidence such as one Canik Pistol (PNP property, issued to one of the murdered policemen, three magazines with Ammos, 39 ammos for 9MM, brown sling bag containing his personal belongings and four empty shells of 9mm.