The city government of San Carlos, with the City Agriculture's Office (CAO) promotes aquaponics, a combined method of aquaculture and hydroponics (growing plants without soil method).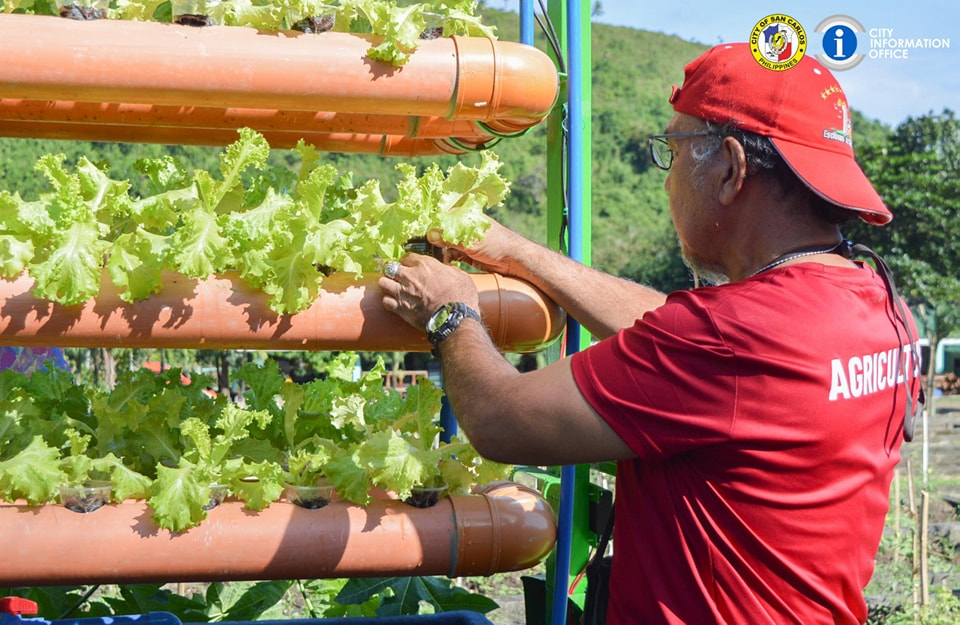 CAO Farm Superintendent Prudencio Bayawa Jr. explained that aquaponics is profitable to anyone who wants to produce and harvest organic food using limited spaces.
The method is not new since the Agricultural Center and Integrated Demonstration Farm in So. Medina Brgy. Rizal has used hydroponics farming before, said Bayawa.
He cited that schools including Ermita, Cabagtasan, Bonifacio, Katingal-an, and Vicente Gustilo Sr. Memorial are using the said method, and their assigned technicians (Carlos Ramos and Jesus Roberto Combate) will hold seminars on Hydroponics, in addition to urban gardening in the different barangays and schools.
Bayawa added that no barangay has yet committed to creating it, but their office will encourage them more to try aquaponics and help them build a system.
Moreover, Verney Briones, CAO Organic Technician, said the good thing about aquaponics is the sustainability where plants cultivate through the aquatic animals' waste, where plants could grow faster than conventional farming.
Last Dec. 2022, Melvin Maglayon, Community Development Assistant and Conservation Fellow of the City Environment Management Office-Coastal Resource Management (CEMO-CRM) Division, received a solar-powered aquaponics prototype from the Bureau of Fisheries and Aquatic Resources (BFAR)-Provincial Fishery Office in Negros Occidental.
Maglayon said San Carlos is among the 13 LGUs in Negros Occidental which received the prototype worth more or less P35,000, which was turned over to CAO since the latter is responsible for vegetables and fish production.
He added the city was one of the beneficiaries of the aquaponics because of its most active fisheries programs, not only in law enforcement but also in the production of Tilapia and Bangus, and its potential to develop it.
Bayawa thanked BFAR and CRM Division for the prototype, which they can show visitors from different places and encourage them to replicate in their respective areas.

The aquaponics prototype at the said center is complete with hydro plots, a tub, a 200-watt mono-crystal panel, a battery, submersible pumps, and a controller where a total of 45 heads of lettuce and 35 Tilapias thrived.