Township developer Megaworld is investing an additional P2 billion in Bacolod City through its soon to rise biggest and most iconic hotel within the Upper East.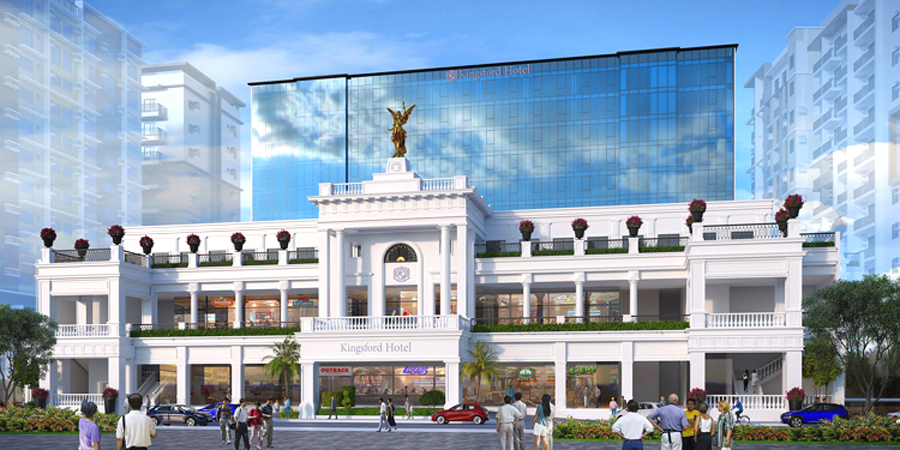 Cleofe Albiso, general director of Megaworld Hotel & Resorts, revealed the upcoming project that will be strategically positioned amongst its four luxury condominium buildings at the Upper East during a press conference held last night, November 23.
Albiso said the project which is expected to be completed in 6 years, is a 12-storey Kingsford Hotel.
According to Albiso, the 300-room, 12-story hotel will have an unique and iconic design that combines modern glass architecture with a podium showcasing neoclassical architecture.
It will be the second Kingsford Hotel after Manila and will be managed and operated by Megaworld Hotels & Resorts.
"We are bringing the Kingsford Hotel brand to Bacolod, our second one next to Manila, with so many upgraded facilities and amenities, including a wider choice of room categories and several food and beverage outlets. This will certainly be another iconic landmark for The Upper East and even for the entire City of Bacolod because of its unique architecture that truly stands out when you pass by Upper East Avenue," Albiso said.
Other amenities of includes an adult swimming pool and kiddie pool with pool deck, outdoor lounge areas, fitness and contemplation deck, state-of-the-art fitness center, sauna and steam rooms, and a kid's club with activity areas.
It will have four food and beverage outlets, that will include a specialty restaurant, an all-day dining restaurant with both private dining and alfresco dining areas, a Zabana Lounge at the ground floor, and a Grill Bar by the poolside with both indoor and outdoor dining areas.
It will also have its own Gift Shop in the main lobby area and a two-level retail arcade outside the hotel lobby fronting the plaza.
It is also designing an Executive Lounge, exclusive to VIP guests, including those booked in higher category rooms, where they can eat breakfast, process their express check-in and check-out, and even partake in the hors d'oeuvres with unlimited tea and coffee at certain times of the day.
For events, the hotel will also have a pillarless Grand Ballroom with a banquet-style seating capacity of up to 400 persons. Its three smaller function rooms can also handle 80 to 100 persons each.