Mayor Evelio Leonardia made a personal phone call to apologize to Jonathan Espinosa, a returning resident whose COVID-19 swab test was falsely documented, which led to his release from the quarantine facility.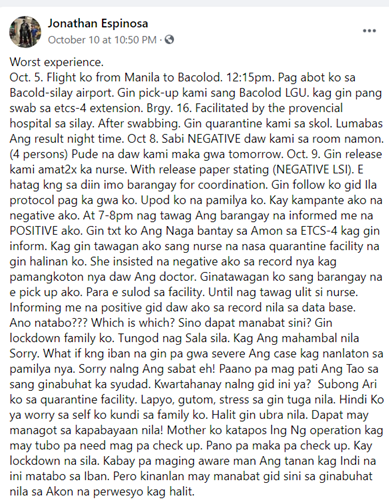 Leonardia in his press briefing said that he spoke to Espinosa and relayed that what happened was an oversight. "It was an honest mistake and I apologized," Leonardia said.
He reassured that the Emergency Operations Center (EOC) is doing everything to avoid a similar incident.
Last October 10, Espinosa took to Facebook to expressed his dismay at how authorities managed to disclose the result of his swab test. He claimed that it was on October 8 that he was informed of his negative result by the nurse assigned at his quarantine facility, but a day after he was sent home, he was picked up by the barangay and was again endorsed to a quarantine facility because his swab result showed that he has been positive for the virus.