The 44th MassKara Festival is set to today, October 6, at the Bacolod City Government Center grounds.
The festival, which is known for its vibrant colors, music, and dancing, is expected to be bigger and brighter this year with the opening ceremony to be highlighted by a performance by the popular pop rock band, The Juans.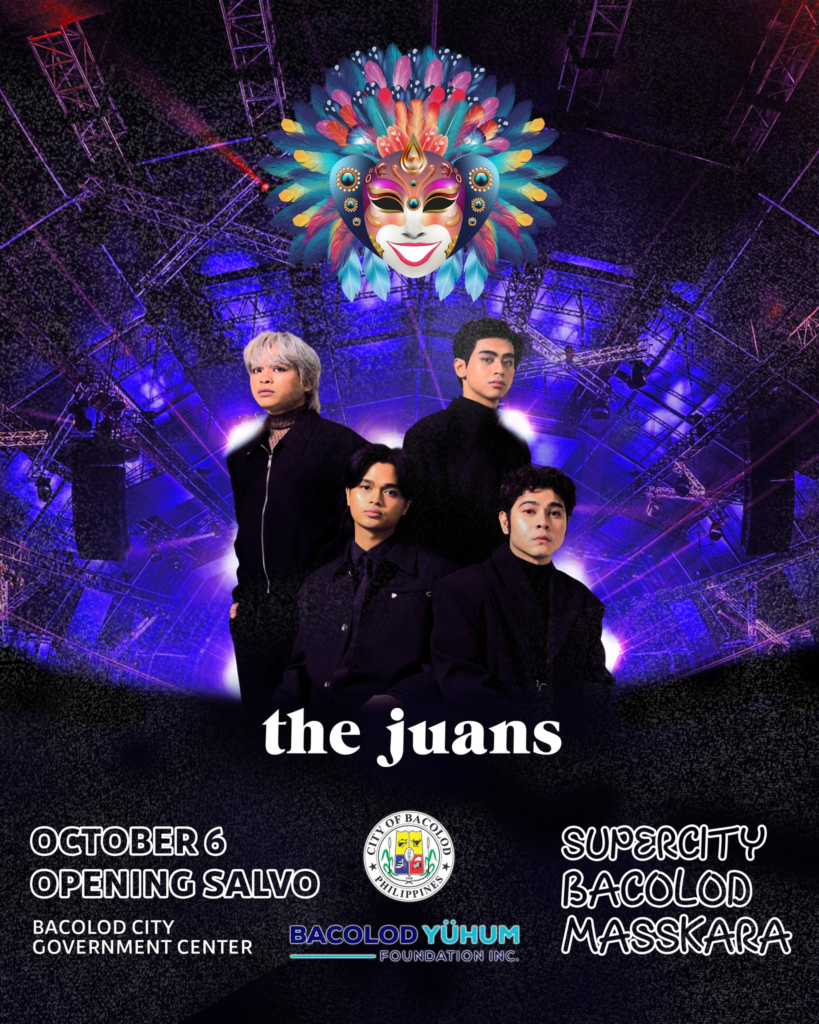 Other performers include local bands and the top winners of last year's Arena Dance Competition.
The Miss Bacolod MassKara candidates and some contestants from the Electric Diva search will also be performing during the opening ceremony.
The event will open with a pre-show at 5:00 p.m., along with entertainment and games from platinum sponsors.
At midnight, a fireworks display will cap the Salubong followed by DJ Bien for the after-party celebration.
What to Expect at the MassKara Festival 2023
In addition to the opening ceremony, the MassKara Festival 2023 will feature a variety of events and activities, including:
MassKara Street Dance Competition: The highlight of the festival is the MassKara Street Dance Competition, which features teams from all over the Philippines competing for the grand prize. The competition is known for its colorful costumes, energetic choreography, and festive music.
Electric MassKara: This event features a parade of floats and dancers adorned with LED lights and other electronic elements. The parade takes place at night, creating a truly magical spectacle.
MassKara Food Festival: This event features a variety of food vendors from all over the Philippines. Visitors can sample a variety of Filipino dishes, as well as international cuisine.
MassKara Music Festival: This event features performances by local and international artists. The festival is a great way to experience the vibrant music scene of Bacolod City.
How to Get to Bacolod City for the MassKara Festival
Bacolod City is located on the island of Negros in the Philippines. The city is served by the Bacolod-Silay International Airport (BCD), which is located about 15 kilometers from the city center.
There are a number of airlines that offer flights to Bacolod City, including Philippine Airlines, Cebu Pacific, and AirAsia. Visitors can also take a ferry to Bacolod City from Manila.
Once in Bacolod City, visitors can get around by taxi, tricycle, or jeepney. There are also a number of car rental companies in the city.
Tips for Attending the MassKara Festival
Book your flights and accommodation in advance, especially if you are traveling during the peak season.
Wear comfortable shoes and clothing, as you will be doing a lot of walking and dancing.
Bring sunscreen, a hat, and sunglasses to protect yourself from the sun.
Drink plenty of water to stay hydrated.
Be aware of your surroundings and take precautions to protect yourself from pickpocketing and other petty crimes.
Most importantly, have fun and enjoy the festival!