The local government of Don Salvador Benedicto town temporarily shutdown the operation of 2 establishments in their area following a landslide.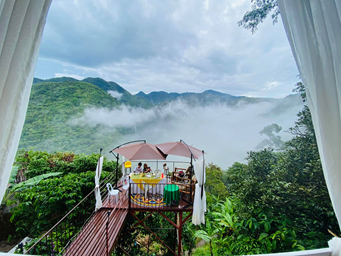 The decision to closed these establishments according to DSB Municipal Risk Reduction & Management is to ensure that it will not cause further danger to their constituents and and those who may visit these establishments. A notice of closure was posted along the highway leading to Balay sa Busay and at the facade of Kurvada Cafe. It reads: "due to the occurrence of fortuitous event (landslide) in your area, where this establishment was built and doing business, that may cause danger to our constituents and visitors, this LGU-DSB ORDERS: TEMPORARY CLOSED."
Based on the report from the local disaster management team, the extra strong wind the past days, plus the non-stop rain resulted to a landslide forcing the local government to rescue some stranded guests. But none was damage in the property of Balay sa Busay, except that the pathway leading to its guesthouse remains impassable.
With over 12,000 followers on its official Facebook page, Balay sa Busay has been one of the go-to places in DSB because of its location where one can have breakfast by the sky and overlooking the lush greens of Malatan-og mountains and its waterfalls.
In a statement posted on their FB page, Balay sa Busay said they are sad for the sudden loss of income for their workers who are mostly from DSB, Talisay, Murcia, SIlay, Saravia & Bacolod, due to the incident that took place. It further clarified that they are not responsible for it nor it happened in its establishment