The man behind Campuestohan- Cano "Gwapo" Tan resurfaces today, May 2, after his name was cleared by authorities from any involvement in illegal drugs.
Tan who went into hiding for 2 years and 5 months showed up at their family resort in Talisay today and presented proof of innocence against any allegations hurled against him and his family that led to an attempted ambush that injured him and his wife, Nita in December 2018.
In a one-pager clearance issued by the Philippine National Police which Tan furnished to the media during his press conference, the PNP said the information allegedly linking him and his family in the illegal drug trade has not been substantiated with any concrete evidence as of this date.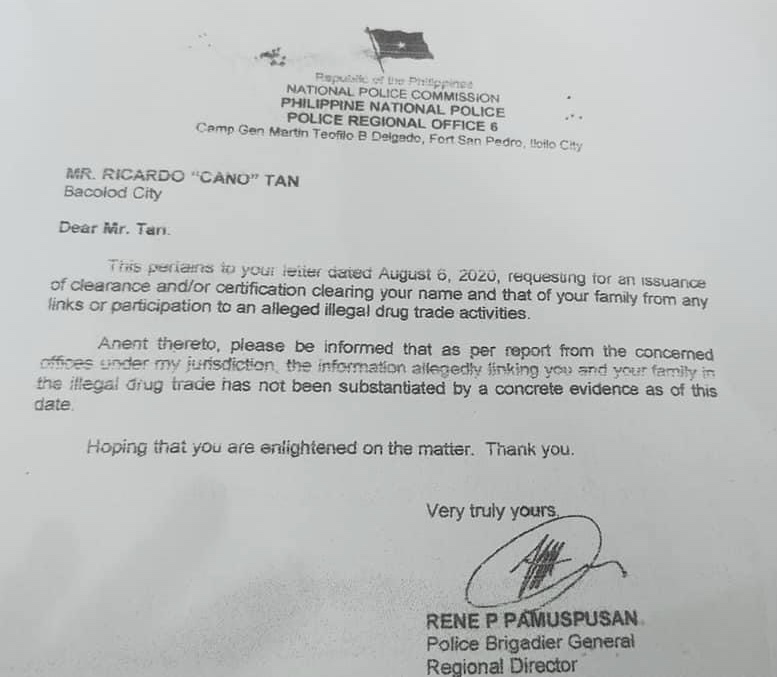 Tan sought clearance from the PNP last August 6, 2020 but only secured a copy recently from PNP Regional Director Police Brigadier General Rene Pamuspusan.
Tan appeared at his resort in Campuestohan, wearing a white jacket and seated at a hardwood table against a huge tarpaulin as a backdrop with text printed "I made it through the rain," and claimed victory in what he called a "sunshine of truth and justice."
I was a victim of fake news and lies, the former number one city councilor said in a cracking voice as he withheld his tears. "I miss my apos, ang ila mga kadlaw, and their sweet I love yous" he added.
Tan also extends his gratitude to his wife who according to him remained strong despite of what they had to go through.
Tan also thanked his son whom he described as the one who stood as a father figure to their family while he was away searching for truth and justice.
Tan said the last 2 years was the most difficult part of his life and all the allegations hurled against him has destroyed his family and ruined his name.
I was wrongfully judged. I am not a drug lord, the former councilor declared.
Tan said the allegations that there was a drug laboratory behind the famous King Kong structure in his resort was baseless and was just part of a well-written script that was directed by his political opponents to destroy him during election.
Tan in his press conference also clarified previous rumors that his family sold their resort to a wealthy family in Negros. According to Tan his family still has full ownership of the resort which he first envisioned to be just their retirement place some 8 years ago.