The bill sponsored by Senator Juan Miguel Zubiri for the creation of a Bacolod general hospital was passed on second reading at the Senate, according to Bacolod Congressman Greg Gasataya.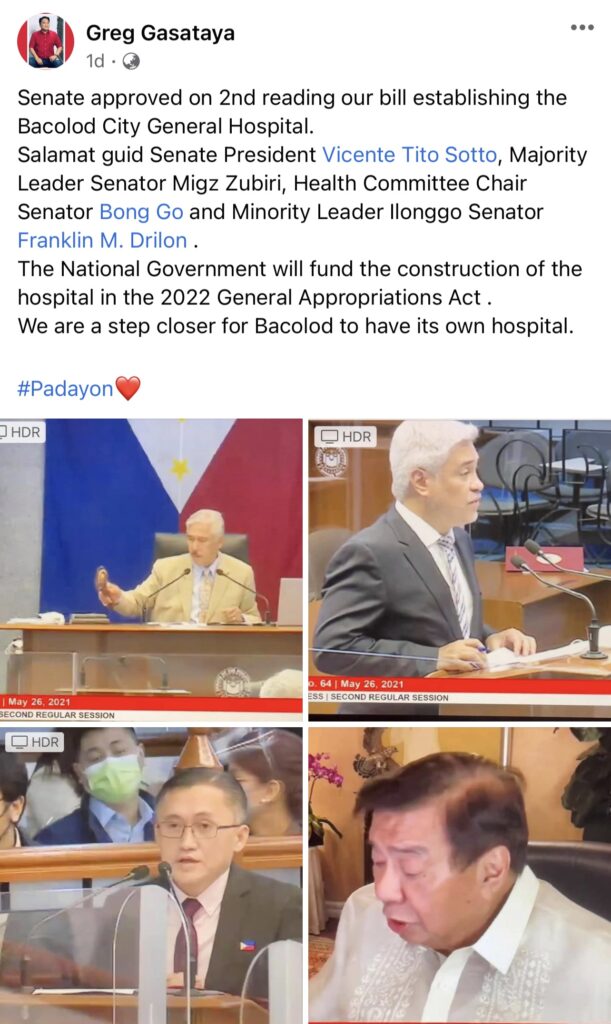 According to Gasataya the senate scheduled the third and final reading next week and should there be no interpellation or objection on the proposed bill, the senate will pass the bill and forward it to the Office of the President for signing it into law. Gasataya is the main proponent of the counterpart house bill. The congress approved the house version of the bill June last year.
Once approved, Gasataya said the construction of the hospital will be funded by national government under the 2022 General Appropriation Act, through the Health Facilities Enhancement Program of the Department of Health. The construction of the hospital was pegged at P600 million and at least 5 prominent families in Bacolod had offered their properties as a possible site of the hospital.
Zubiri said Bacolod City is one of the most populated cities in the country with 561,875 residents as per the 2015 national census, which makes this bustling metropolis the most populated city in Western Visayas and second in the whole of Visayas, but currently, the health care services is only handled by Corazon Locsin Montelibano Memorial Regional Hospital- the lone tertiary government hospital that caters to the whole of Negros Occidental.
With only a 400-bed capacity that serves a daily average of 724 patients from the whole province, the CLMMRH clearly needs to decongest its load to attend to the needs of its growing number of patients, according to the senator in order to address the overcrowding and provide the people of Bacolod City a better quality of health care services.