In its 9PM advisory release today, February 13, the Philippine Institute of Volcanology and Seismology noted a slight increased in seismic activity and volcanic gas flux at Kanlaon Volcano.
Kanlaon Volcano's monitoring network recorded twenty-eight (28) volcanic earthquakes between 11 and 13 February 2021, PHIVOLCS said.
These earthquakes according to PHIVOLCS ranged in energy from ML0.7 to ML2.2 and occurred at shallow depths to depths of 10 kilometers across the northern to eastern portions of the edifice.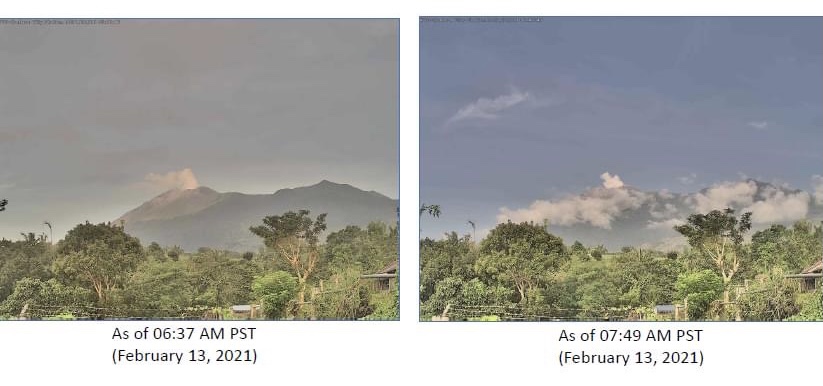 It also noted a significant increase in Sulfur dioxide (SO2) gas emission from the summit crater today that reached an average of 1,130 tonnes/day, the highest value recorded this year, following a trend since June 2020 of emissions higher than background levels of 300 tonnes/day.
The ground deformation data from continuous GPS and electronic tilt measurements has also been recording a slight inflation of the lower and middle slopes since June 2020, indicating slow pressurization within the volcano, PHIVOLCS added.
These parameters could indicate hydrothermal, tectonic or even deep-seated magmatic processes occurring beneath the edifice, the advisory added.
According to PHIVOLCS these observational parameters signify that Kanlaon is in a restive state, with increased possibilities of phreatic or steam-driven explosions occurring at the summit crater.
It advises the public to be vigilant and to refrain from entering the four (4) kilometer Permanent Danger Zone (PDZ) because sudden and hazardous phreatic eruptions may occur without warning. DOST-PHIVOLCS is closely monitoring Kanlaon Volcano's activity and any new development will be relayed to all concerned.