Globe and the Sagay City government joined hands to enable WiFi connectivity to keep residents informed, safe and connected. The partnership marks an important milestone as Sagay City is the first in the entire Negros Island to be powered with Globe KonekTayo and GoWiFi services.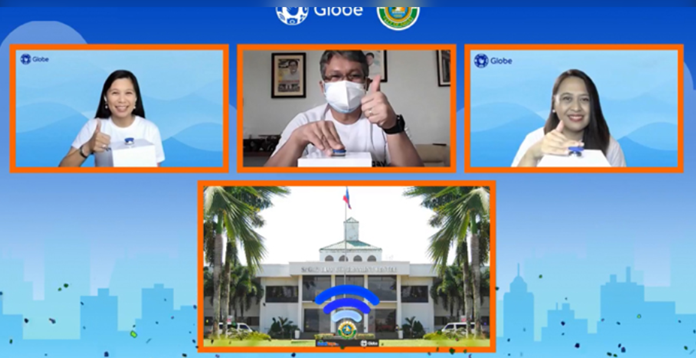 GoWiFi is the largest WiFi service in the country that is currently accessible in over 3,100 locations nationwide. The cooperation allows Sagay City Hall to be linked to the internet with Globe's GoWiFi service. This gives the city's staff members a convenient way to conduct essential online tasks and activities while staying connected for free.
"With the strong support and collaboration of our partner organizations, our deployment efforts to make low-cost connectivity continue to have a far-reaching impact across the country, particularly for households that are at a low or fixed income," said Janis Nathalie Racpan, Globe's Director for Business Development and Marketing. "Today, together with the Sagay City government, we begin fulfilling our common aspirations for better and stronger connectivity in the city of Sagay. We look forward to continued collaboration to create even stronger connections and more meaningful digital experiences for the individuals, families, and communities that they aim to serve."
Residents of Brgy. Paraiso 1 and 2 and Lizares Subdivision have been experiencing the benefits since KonekTayo WiFi was deployed in the area. As Globe's fast and secure community WiFi service, it seeks to provide households with access to affordable internet.
Sagay City Mayor, Alfredo Marañon III, shared how internet connectivity has never been more important to Sagaynons until the global pandemic began.
"Globe KonekTayo WiFi has been vital to our childrens' online learning and empowered parents remotely work effectively and safely. I am glad that in partnership with Globe, more Sagaynons will be able to afford robust connectivity through Globe's KonekTayo community WiFi and free GoWiFi services. Thank you very much to Globe for your support in our aim to provide better internet services to the Sagaynons," said Marañon.
Globe also commits to making its Digital Thumbprint Program (DTP) available to Sagaynons in the near future. DTP is a series of workshops that aim to increase netizen knowledge of digital citizenship and cybersafety and takes a critical look at the online behavior of users and help them develop insights into the influences of the online world and the choices they are making.