Edgar 'Injap' Sia's, DoubleDragon, marked a significant milestone in Negros Occidental with the groundbreaking of its expansive 10.06-hectare CentralHub-Negros industrial warehouse complex in the province, yesterday, August 11.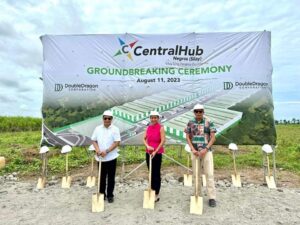 The development is strategically located on J.Apitong Ledesma Street, Silay, Negros Occidental, providing easy access to the Silay Negros International Airport and Bacolod City.
CentralHub-Negros is set to contribute approximately 74,000 square meters of leasable industrial warehouse space to DoubleDragon's leasing portfolio, the company said in a statement.
The project's Phase 1 is projected to be completed by 2024, followed by Phase 2 in 2025.
This comes on the heels of CentralHub's successful full leasing of its CentralHub-Cebu Danao project, a 44,601 square meter industrial warehouse complex generating a recurring rental income of ₱15.98 billion pesos over the lease term, it said.
CentralHub has swiftly expanded its footprint, boasting a current portfolio of 605,732 square meters across six operational industrial warehouse complexes.
It's a diverse ecosystem, catering to logistics, FMCG, trading, and distribution companies, including the renowned Jollibee Group.
The expansion is part of its ambition to become a pioneering Philippine Industrial REIT IPO.
CentralHub seeks to file as soon as REIT capitalization rates stabilize at 5% to 6%, bolstered by its robust ₱24.8 Billion industrial leasing portfolio.