Fire volunteers from Chamber Volunteer Fire Brigade successfully rescued a one-year-old girl and her family to safety after a fire broke at a 4-storey commercial building along Gonzaga-Lopez Jaena Streets in Bacolod City, past 7:30PM on April 25.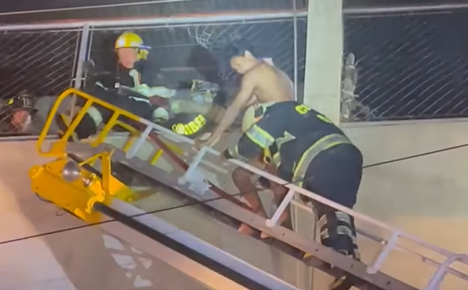 In a video footage captured by fire responder Vince Lim, firefighters were seen assisting the father and the baby to get out from the top floor of the building using Chamber's aerial ladder after they were rescued.
Aside from the 2, also rescued were the 35-year-old mother of the infant and their 19-year-old companion. All were immediately given medical assistance by the medical responders.
The four were trapped inside the JA Building when the fire hit Big Thumb General Merchandiser owned by Tomas Arroyo Lim, located at the ground floor.
According to the Bureau of Fire Protection, the fire reached the second alarm and left at least P4 million in damage. The cause of the fire is still being investigated as of this writing.