A tweet from Grammy winner Sam Smith about the performance of Bacolod's blind singer Carl Malone Montecido is this year's Top Retweet and Most Liked Tweet in the Philippines, a press release from Twitter said.
It was in February when Smith (@samsmith) tweeted about a young Filipino boy singing his song in a public karaoke machine that went viral. The English singer was amazed with the boy's talent, and so do the thousands of people on Twitter.
This Tweet is also one of the most engaged Tweets in Southeast Asia, according to Twitter. As of today, December 9, Smith's tweet has over 1 million likes, and the video was viewed 14 million times on Twitter.
The tweet which drew international attention featured Carl Malone while singing inside the supermarket of SM City Bacolod using a videoke demo equipment.
The singer-composer first caught the Filipinos' attention when he appeared in 2016 on ABS-CBN's Tawag ng Tanghalan, a segment of It's Showtime, where he was one of the top six finalists. In August of this year, he won a Silver Medal in the 2020 World Championships of Performing Arts 18-24 Senior Vocal Variety and semi – finalist in the Senior Vocal Category.
Filipinos came to Twitter to find connectivity and togetherness in a year like no other
Whether it's working from home, learning remotely, or social distancing, everybody's life has changed in 2020 and people have looked for comfort wherever they could find it. People come to Twitter for a sense of connectivity, togetherness, and encouragement; and in 2020, this was more true than ever. People used Twitter to try and change the world, help others, to encourage them, inspire them, or even just make them laugh. They even used Twitter to promote their favourite businesses that may have needed a little boost to stay afloat.
Though physically distanced, Filipinos created a constant bustle of activity on Twitter to connect with one another. Twitter witnessed it all: the sharing of personal stories, spreading joy, and learning how to see the good side of things. It's also the place where Filipinos stay updated on global news, social movements, and in raising awareness for charitable causes.
Other popular Tweets that brought us together on Twitter
Staying at home did not stop Filipinos from participating in social movements. Tweets became useful to voice everyone's opinion, while a simple Like, Retweet or Quote Tweet can be a sign of support to further amplify advocacies online. For example, many Filipinos engaged on this Tweet to promote body positivity among Pinays.
Transitioning to the new normal is not an easy feat, so it's amazing how people come together and try to lift each other up on Twitter. From simple words of encouragement to artworks that inspire people to keep going, anyone can be one less lonely by connecting to communities on Twitter.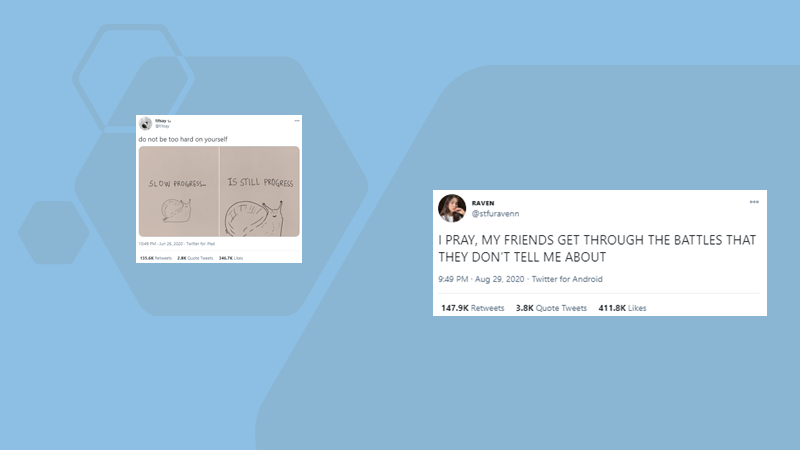 Most Tweeted about hashtags in the Philippines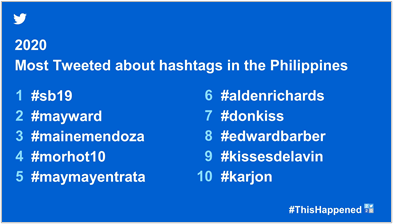 Just like last year, Entertainment proved its dominance as the Most Tweeted about hashtags this 2020. Music, loveteams, and local celebrities continue to make Filipinos smile despite the challenging times. This year, P-Pop boy group #SB19 debuted straight to the top of the list, while #MayWard, #MaineMendoza, and #AldenRichards among others continue to set the trend, thanks to the fans who unceasingly show their support on Twitter.
Most Tweeted about Accounts in the Philippines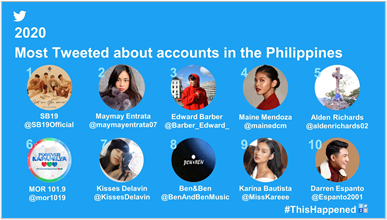 Entertainment remains steadfast on being the top conversation driver on Twitter. Perhaps, Entertainment kept Filipinos (virtually) together, and staying updated with the scene became their solace and joy in the rather mundane life at home. This year's list of Most Tweeted about Accounts is led by the phenomenal group, SB19 (@SB19Official), who went straight to number 1; while other "veterans" such as Maymay Entrata (@maymayentrata07), Edward Barber (@Barber_Edward_), Maine Mendoza (@mainedcm), and Alden Richards (@aldenrichards02) completed the top half of the list.
"This year, people have used Twitter not just to keep up with what's happening around the world, but to maintain connections with one another despite being apart. The challenging circumstances of 2020 has highlighted Twitter's role in driving real-time conversations and facilitating the interactions that matter as Filiipions bonded over heartwarming and key moments of the year. As we enter 2021, it's clear that Twitter is the only place for the buzziest, funniest, most interesting, and most relevant culture moments, and we expect this to continue moving forward," said Arvinder Gujral, Managing Director, Southeast Asia, at Twitter.
Join the #ThisHappened2020 conversation on Twitter using any of the hashtags listed below and you'll see a fun emoji in your Tweet. Also check out @TwitterPH and our Twitter accounts around the world which will spotlight the top Twitter moments from the year.